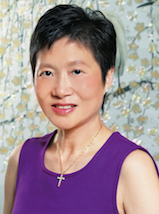 We said goodbye to our father a year ago. It was the toughest goodbye I have ever said because there was no more "see you soon" or "call you later."
But even as we said our prayers and held his hand in those final moments, he was showing us what it means to have lived a life without regrets. Our father was our teacher till his last breath.
I am overwhelmed with bittersweet feelings as I share our developments over the last few years. On the one hand, I am wistful because our father is not physically here with us to celebrate the progress we made since those early conversations about philanthropy. On the other hand, I am hopeful and excited that we and future generations will have the opportunity to help realize his vision of a family that pays forward through their own lives and The Yeh Family Philanthropy.
I was recently asked, "Which philanthropist inspires you?" While it would have been easy to say Mother Teresa, Rockefeller, Bloomberg or Gates, my answer was my father. He was a man who always lived life to the fullest, in reflection of his values – integrity, accountability and a deep-seated belief that giving back was a responsibility, not a nicety. He held himself to those standards and taught us to live life that way.
Looking back, those conversations are some of the more poignant memories I have of my father, as we sought to create something together that could allow the Yeh family to contribute to society for generations to come. When he tasked me with running the foundation, neither of us realized that I would find my passion and calling!
We have come a long way in the last five years. Our fledgling course on social entrepreneurship and venture philanthropy has been scaled up in partnership with the Hong Kong government's Social Innovation and Entrepreneurship Fund. Our work with Teach for China is entering a new phase in which we are supporting the professional development of their educators as Teach for China itself evolves and grows into one of the most impactful and innovative non-profits tackling rural education in China. And in Hong Kong, we are in a unique collaboration with HKSKH Lady MacLehose Centre to design, pilot and test a one-on-one tutorial model to support the learning of primary school students.
We have made progress. We have made mistakes. But every step of the way, we have learned more about the issues we seek to address, the needs of our partners and their beneficiaries, the lessons from existing solutions and the promise of technology to help support pedagogy. As we benefit from this continuous learning, we are eager to share our knowledge among all stakeholders in this ecosystem and benefit from their feedback and experiences.
Today, we relaunch our website to commemorate the anniversary of my father's passing. There remains much work to be done; we are only in the beginning stages of our journey. But it is my hope that, as we move forward, my father's spirit will live on through foundation, and we can continue to make him proud.
May you rest in peace, Dad. We miss you dearly!
Yvette Yeh Fung
16 October 2017