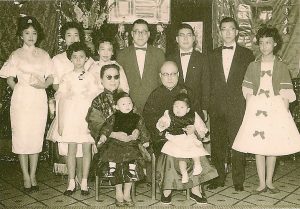 Godfrey Yeh was born in Ningbo, Zhejiang Province in the late Qing Dynasty in 1900 into a middle-class merchant family. Over time, he migrated from Ningbo to Shanghai and then later to Hong Kong. Prior to World War II, the elder Yeh started successful construction businesses, first in Shanghai then in Hong Kong. Unwilling to work for foreign occupiers, Mr. Yeh and his wife, Tsao Hsu-Yun, halted his thriving business and lived out the war in Shanghai. When they returned to Hong Kong, their savings were depleted. Thankfully, the elder Yeh had built a name as an honest and diligent businessman and developed excellent relationships with his customers and suppliers alike. He was able to capitalize on his reputation to restart his construction business in 1946. Godfrey and Mrs. Yeh were blessed with three sons and one daughter.
Dr. Geoffrey Yeh, the youngest of his siblings, was born in 1931. Dr. Yeh grew up in the midst of Hong Kong's post-World War II reconstruction boom and the transformation of Hong Kong from a small colonial outpost to a major economic centre. Dr. Yeh fondly remembers playing on construction sites as a child while on site visits with his father. It was during these childhood years that Dr. Yeh himself grew to love construction. Dr. Geoffrey Yeh went to the United States in 1950 to study at the University of Illinois and Harvard University gaining a B.S in Civil Engineering (Illinois) and a M.A. in Soil Mechanics (now Geotechnics). Dr. Yeh returned to Hong Kong and married Helen Yeh in 1958. The couple has two children, V-Nee Yeh and Yvette Yeh. Dr. Geoffrey Yeh took over Hsin Chong Construction, growing it into one of Hong Kong's leading construction companies and helping to build Hong Kong's infrastructure.
V-Nee and Yvette both attended the Diocesan schools and university in the United States. V-Nee studied at Williams College and then Columbia University Law School. He returned to Hong Kong to build several successful fund management businesses and is an avid wine collector and trader. He married Mira Yeh in 1994 and the two have one daughter, Nadya who attends Williams College. V-Nee and Mira are fond of boating and skiing and support a variety of environmental and educational causes.
Yvette studied at Stanford University, UCLA School of Business, and Stanford Law School. She returned to Hong Kong in 1997, helps manage Hsin Chong International Holdings and is Chair of The Yeh Family Philanthropy. Yvette married Dr. Carl Fung, a US trained cardiologist, in 1991 and the two have two daughters, Camille and Carina. Camille studies at The New York University Tisch School of the Arts, and Carina studies at The Thacher School in California. Carl and Yvette enjoy traveling to exotic destinations with their daughters and are deeply involved in educational and arts-focused institutions and charities.
The Yeh family enjoys traveling and eating together as often as possible. All of the family members are involved in personal charitable giving and look forward to new endeavors through the Yeh Family Philanthropy.