(Hong Kong – August 10, 2018)
SMART Program was featured in the news in an HK01 article yesterday!
Tutorial classes are now perceived as an indispensable part of both primary and secondary students. However, it is luxury to many students from the underprivileged families. The implementation of the SMART Program, a Youth Tutoring Project for serving deprived children in Kwai Tsing district, strives to alleviate the inequalities.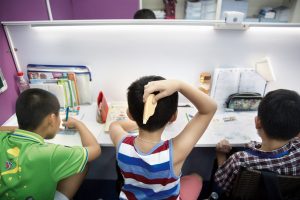 The experience of Wendy, a tutor from SMART Program, forms a compelling narrative reflecting this positive impact. Wendy was an outstanding student during her primary studies and a high achiever in most of her school subjects besides English. She understood the importance of a good foundation in English, but her family found it challenging to support tutorial classes for her. Fortunately, Wendy was able to join a subsidized tutorial program at that time, thus leading to her outstanding academic performance now as a Secondary 5 student. Wanting to give back to the community, she joined the SMART Program as a tutor.
Wendy is now the tutor and a role model for a Primary 5 student, Zi Ka. He not only thinks Wendy is a good teacher with unparalleled patience, but also a friend with whom he can share all his happy and unhappy moments.
This case study showcases how SMART Program is bringing positive impact tutees academically whilst fostering their personal growth.