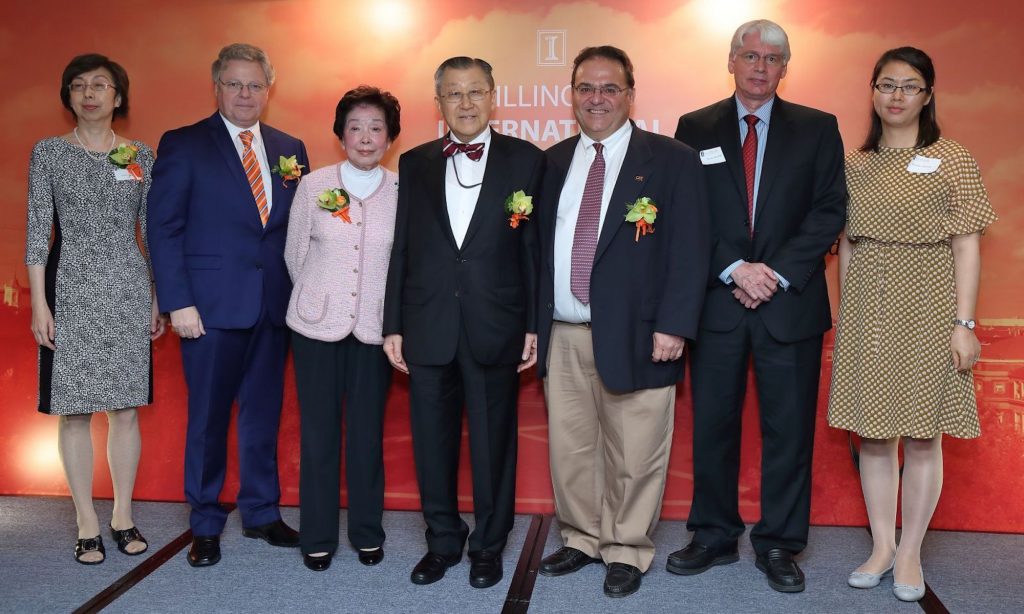 (Urbana Champaign – May 31, 2016) The University of Illinois at Urbana Champaign presented Dr. M. T. Geoffrey Yeh with the Madhuri and Jagdish N. Sheth International Alumni Award for Exceptional Achievement. The prestigious award recognizes Dr. Yeh for "significant and lasting contributions to the construction and financial sectors in Hong Kong." Family and friends gathered at an intimate ceremony at The Hong Kong Club, along with distinguished alumni from the University (who are affectionately known as "Illini").
Professor Andreas Cangellaris, Dean of the College of Engineering, traveled to Hong Kong with Professor Benito Marinas and other colleagues to personally present the award to Dr. Yeh. In his remarks, Dean Cangellaris described Dr. Yeh's journey from a humble civil engineering undergraduate student at the University, to building his father's business Hsin Chong Construction into a publicly listed company in Hong Kong, one of the top of its kind. The Dean also made note of Dr. Yeh's many philanthropic activities over the years, inspiring his fellow Illini to also donate generously.
As the Dean concluded, "Those who meet Geoffrey cannot help but be touched and inspired by his warmth, his humility, his vision for bettering the world and his Illini spirit. We are honored to call Geoffrey Yeh an alumnus of Civil and Environmental Engineering at Illinois, and we are delighted that he is being honored tonight. He is most deserving."
In accepting his award, Dr. Yeh recalled his first days on campus, alone in a new country. He then acknowledged the lifelong friendships he made there, and the lessons that he carried through his life. "I have been fortunate enough to be allowed to contribute to Hong Kong in many ways, both in construction and other areas.  But I would not have had the aspiration or commitment to do so had it not been for the time I spent at the University.  Perhaps more than technical skills and analytical thinking, at Illinois, I learned the importance of engaging as a productive citizen of our society and the satisfaction that comes with that engagement."
Before the end of the ceremony, Professor Marinas unveiled an unscheduled surprise for Dr. Yeh. A video was shown, made by Civil China students of the University who used sand paintings of familiar campus scenes to tell a recurring story: that of Chinese students arriving on campus in an unknown and foreign land. The Civil China students paid tribute to Dr. Yeh with sand paintings depicting Yeh Center, showing how his generosity has made life easier for current and future generations of students.
The University of Illinois has also covered the story here.